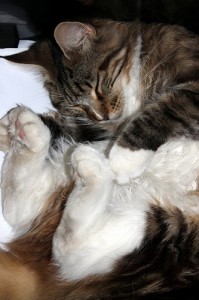 This is a notice released by OVMA.
During the Labour Day weekend, the owner of three cats acquired a package of cat treats from a male individual handing out 'samples' while walking along the waterfront adjacent to the Burlington Ribfest. The treats were consumed on Sunday, September 8 starting at 1:30 p.m.
All three cats exhibited neurological signs that afternoon and evening. One cat died at 10:30 p.m. that evening. All three cats were presented to a Burlington veterinary clinic at 11:00 p.m. A short time later, the other cats were subsequently euthanized.
The manufacturer of the cat treats had no commercial association with the Burlington Ribfest, or any related sampling program. The three cats and a single kibble of the treat were submitted for testing on September 13 &14. The preliminary pathology report on the three cats is consistent with acetaminophen toxicity. The analysis of the treats indicated that acetaminophen was present on the surface of the kibble.
Veterinarians would like to remind pet owners not to accept pet food samples from anyone that is not clearly identifiable as a pet food distributor.  If you are a pet owner and believe your pet may be ill, please speak to your veterinarian immediately.